Traveling is a hobby that has grown in popularity over the years. More and more people are traveling for leisure, work or even to retire. In this blog article, we will talk about benefits of travelling, and some tips to prepare a trip.
Benefits of Traveling
Traveling has many benefits, even if it's just for day trips.
Traveling allows us to meet new people and experience other cultures. We develop our social skills while travelling because we must talk to strangers in order to get around town or ask for help when lost.
Traveling is also an easy way to learn about different cultures. Going somewhere new allows us see how others live their lives which expands our knowledge base. It can be both enlightening and humbling at the same time!
Travelling has health benefits as well. Travellers experience increased social interactions which boosts mental health by reducing stress and anxiety. It can also help people with depression by providing a distraction from negative thoughts.
Travelling to new places is also good for your physical health because it forces you to walk and explore! People who travel see themselves in different perspectives and realize that their own country isn't the only one in the world worth exploring.
Travellers often learn how much there is not know about our world, which makes them more open minded to other cultures; they even become more accepting of differences when they return home. Travelling changes people's perspective on life because, after travelling, they come back thinking differently than when they left.
Traveling for leisure has increased in popularity over the years as well. We all need breaks from our busy lives no matter if we work from home or in an office environment. Travelling allows us to rest and recharge, as well as try new activities that we wouldn't usually do at home because of lack of time or motivation.
You may even consider travelling a healthier alternative to drugs and alcohol!
Tips for New Travellers
Traveling is fun but it can also be overwhelming, especially if you're going somewhere far from your hometown for the first time. In this blog article, we give you some tips to prepare yourself before embarking on a journey:
The first tip is to choose where you want to go depending on your interests. Do your research by reading books about the country's history and culture so you have a clearer picture of what it's all about when you arrive to your destination.
When you arrive in the country, try to ask people for advice on where to go and what kind of activities to do. This is a good way to immerse yourself in the culture faster!
A tip that may come in handy is learning basic phrases before leaving home. This can help you interact with the locals more easily. It will also be much easier to travel if you know how to say "hello" or "thank you".
Staying safe during your travels is very important as well. Traveling makes us vulnerable because we put ourselves out there away from our comfort zones, which means that it's important that we take every necessary precaution when going somewhere new Be sure that someone knows where you are at all times, carry copies of your passport and other identification, always keep your valuables safe, inform the police if you notice any suspicious activity. If something happens no matter what big or small contact embassies or consulates for help if needed!
Also make sure to call your bank before leaving home so they don't put a hold on your credit cards because of unusual activity. This way you save time trying to solve this problem when you arrive in country.
Travelling takes research and organization which is why many people consider it as a hobby nowadays. It can be fun but also challenging depending on where you're going and how much money you've got to spend on it. We hope that these tips helped you organize your next trip; feel free to leave us any comments or ideas on how to improve this blog article! We hope you enjoyed.
4 Places You Need to Visit for the First Time
I'm going to share some of the best places you need to visit for your next trip if you're just starting out on this journey!
Gatlinburg, Tennessee, USA
Mid-way between Memphis, Tennessee and Asheville, North Carolina is the incredible town of Gatlinburg. It's a well known tourist destination because it's home to the famous Dollywood theme park. Not only that but there are incredible waterfalls nearby which you can walk up to for stunning views.
American Museum of Natural History, New York City, USA
The American Museum of Natural History in New York City is one of those places that will take your breath away from the moment you step inside. It's been open since 1869 and there are some incredible exhibits including dinosaurs, mummies as well as insects and minerals!
You can also immerse yourself even further into culture with their huge variety of musical instruments on display – more than 1000 different kinds! Of course it wouldn't be complete without their permanent blue whale exhibition!
Bali & Lombok, Indonesia
If you love traveling around Asia but are feeling a little tired of the crowds then maybe it's time to visit another neighboring continent. Bali & Lombok are two volcanic islands that are right next door to each other in Southeast Asia.
They're about an 8 hour flight from Australia and New Zealand – which makes them very accessible for travelers who live there! One thing I love about these islands is their vibrant villages where you can see daily life being carried out by local people.
Here you'll have the opportunity to shop down tiny alleys until your heart's content as well as take part in delicious dining experiences at small family run restaurants!
Switzerland
Switzerland offers some of the best views that Europe has to offer. Whether it's mountain climbing, hiking or just sitting in silence and admiring the view with a hot chocolate, you'll never get sick of Switzerland.
If you still feel like you need more excitement then go skiing in one of their many resorts in the winter!
So now you know the benefits and best places to visit for your next trip! We hope that these tips helped you out.
30 Essential Travel Accessories
If you love exploring, then it's important that you invest in some good travel accessories before hitting the road or flying into space! Whether you are a man or woman, here are 30 of the most useful items on this list for making your trip easier than ever!
Though this list doesn't cover every single thing you might need while traveling, these essentials will make packing light easy and ensure that any trip goes smoothly.
Here's what we've found:
Document Organizer
The best travel accessory for men and women who hate digging through their stuff to find documents, money, or anything else they might need. The elastic band ensures everything stays in the right place so you don't have to worry about losing your passport or money.
Amazon Basics RFID Travel Passport Wallet Organizer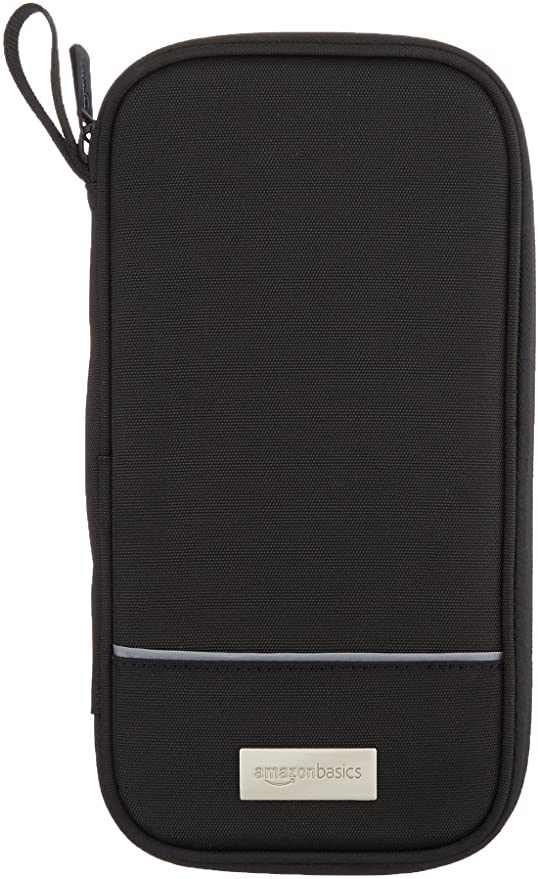 The Amazon Basics RFID Travel Organizer is designed to keep valuables safe while traveling. It has separate compartments for passports, tickets, currencies, and other items. Made of durable nylon with a zipper that closes promptly, this product can protect against unwanted scans from identity thieves because it blocks anti-theft waves emitted by RFIDs tags. The large top pocket is perfect for quickly accessing cards or coins so there's no need to dig through all the other contents.
Packing Cubes
For extra organization, these packing cubes are a must-have that prevent your clothes from getting wrinkled and help keep you looking good while traveling.
Packing cubes can be used for anything from small toiletries to cords and chargers, to jewelry.
Travel Bottles
Another fantastic travel accessory for men and women who hate carrying large, heavy toiletry bottles with them! The best part is how much room they save when packed in a bag and their ability to resist leaks if turned on their side.
Digital Organizer
Keeping track of all the things you need for your trip becomes easier when using an organizer or planner that allows you to write down important numbers, dates, and other things like lists of what's inside each suitcase. These cute planners add a personal touch to any adventure.
Duffel Bag
If you're traveling with just a carry-on, then ditch the big suitcase for this comfortable duffel bag. It's easy to move around even when it is fully packed and it has plenty of room for your clothes inside.
Day Backpack
For women who want something smaller than a carry-on but don't want to give up any space, there's this day backpack! This is the perfect size to put in overhead compartments on airplanes or under seats which is why it makes an essential travel accessory that goes well with bigger bags.
International Travel Adapter
This adapter works in over 150 countries so no matter where you go, you can charge any electronic device with ease! It fits in most outlets with its slim design and has built-in surge protection to keep your devices safe.
Multi USB Charger
This charger can charge up to 5 devices at once so if you leave one near the outlet, all of your gadgets will be charged by morning! It works for Apple and Android phones, GoPro cameras, digital cameras, and more.
Mobile WiFi Hotspot
Never worry about losing internet or running out of data again with this portable device that creates a pocket-sized wifi hotspot anywhere you go. You just need internet access (via SIM card) to use it anytime, anywhere because everything is done through an app on your phone!
Power Bank
When combined with the multi USB charger above, this power bank becomes the perfect companion because it can store power to recharge your devices at any time you need it.
While traveling with a mobile phone or tablet, a power bank can be a lifesaver if your devices die and you need to keep them going for as long as possible.
Electric Razor
This razor is small enough to fit in any purse or carry-on bag, which makes it great for traveling. It also comes with multiple attachments of different lengths so you can make trims anywhere!
Hand sanitizer gel
This little product is perfect for cleaning your hands before eating or touching anything that gets dirty like door handles, tables, and more. It's basically antibacterial soap in a gel form so it doesn't dry out your skin as soap does!
Mosquito Repellent
When traveling to places where mosquitoes are common, you'll want this repellent to keep them away! Just spray it on clothing or skin (not eyes) for protection without the harsh chemicals found in most sprays.
Skincare products
If you are prone to dryness or sunburn while traveling, some great skincare products like lip balm and sunscreen will help prevent redness. They may not be the most exciting of your travel accessories but they get the job done!
Melatonin Pills
If you can't sleep on planes because of uncomfortable seats, engine noise or other reasons then these tablets are a lifesaver! They provide you with the perfect balance of melatonin for an excellent night's rest while traveling.
Ear Plugs
Whether it's on the plane or in your hotel room, these earplugs are great when you want to get some sleep even when people are talking near you/in the hallway.
Compression Socks
For flights longer than 6 hours (or walking tours), these socks help reduce swelling and provide extra comfort by keeping pressure off key veins that may swell otherwise. Plus, they can be worn in all seasons so you don't have to worry about them taking up unnecessary space in your suitcase.
GPS Tracker Keychain
This is a useful travel accessory for anyone who is prone to losing things! You can attach it to any valuable or something you don't want to lose and the GPS will help you find your way back if it is ever lost.
Padlocks
Having locks at all times makes you feel secure even when hotel staff has master keys. This set comes with three different kinds of locks for suitcases, lockers, and more – keeping everything from your pants inside to your bags safe from theft.
GoPro Camera
This is the perfect travel accessory if you are into capturing beautiful moments in every place you visit. Once you're done filming, plug it right into your computer using an SD card reader or even upload directly to YouTube/Facebook/Twitter so all your friends can see where you've been!
Money Belt
This kind of belt goes around your waist to keep any money, credit cards or passport in a secure location while still being hidden from view. It can also be worn under your shirt or clothing for extra protection.
Microfiber Towel
Even though hotel towels may seem clean, this microfiber towel is a lot more hygienic and dries a lot faster than a regular cotton towel. It folds up into a small size that doesn't take up too much space in your suitcase either!
Water Purifier Bottle
A special patented filter makes water taste pure and crisp by removing 99.99 percent of bacteria, such as giardia and cryptosporidium. It's even NSF certified to reduce chlorine, chemicals (VOCs), and heavy metals like lead/mercury)!
Travel Pillow
If you can't sleep on planes or trains, this travel pillow provides great head support and is adjustable so it doesn't slide around. Plus, it comes with a carrying case for easy storage!
Noise Cancelling Headphones
When traveling on buses or subways these headphones will block out any noise that distracts you from your music or book! They come in different colors too so you can express yourself with your ear covers!
Headphone Jack Splitter
If you are traveling with other people, this split cable will allow all of you to plug in your headphones into the same port. Plus it's small enough to fit in any bag or pocket for easy storage!
iPad
IPads are great for watching movies on planes, playing games while waiting at the airport, etc. It also has a variety of apps that can be used when you travel so no matter where you go there is always something new to do!
Amazon Kindle
With an Amazon Kindle Paperwhite E-reader, there is nothing to distract anyone from their books because it doesn't have bright screens or bulky cases to carry around. It's even got long battery life and a built-in backlight for easy reading in the dark!
Sunscreen
This is a must-have travel accessory because sunscreen dries out easily when traveling. It is best to put it on before you get on the plane so it has time to dry completely before you land at your destination!